Future Jail Information
Future Cross County Detention Center
JAIL EXTERIOR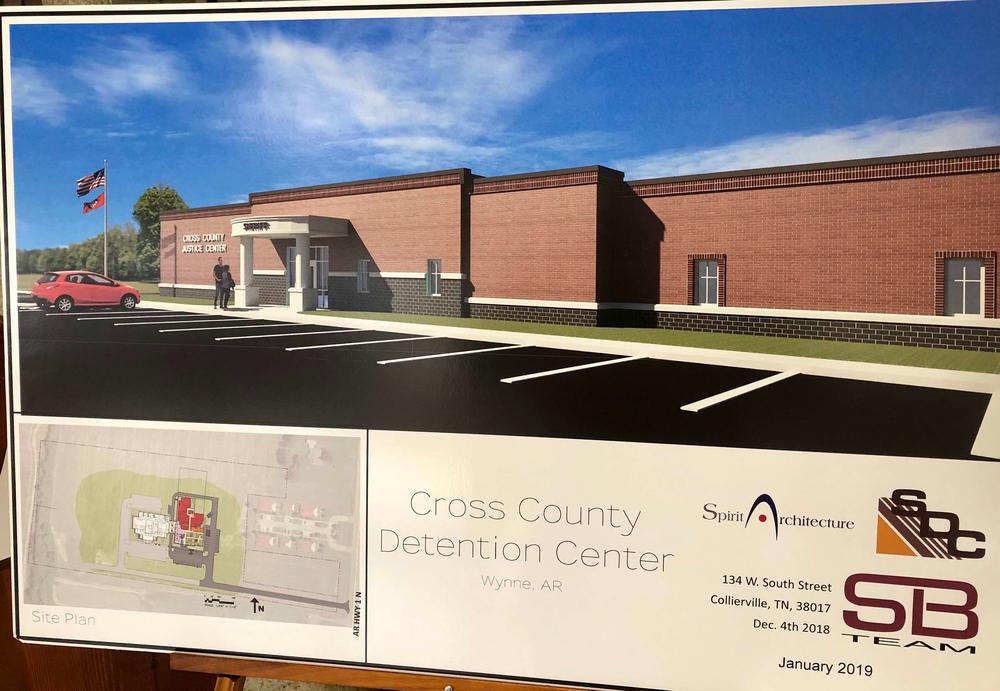 JAIL FLOOR PLAN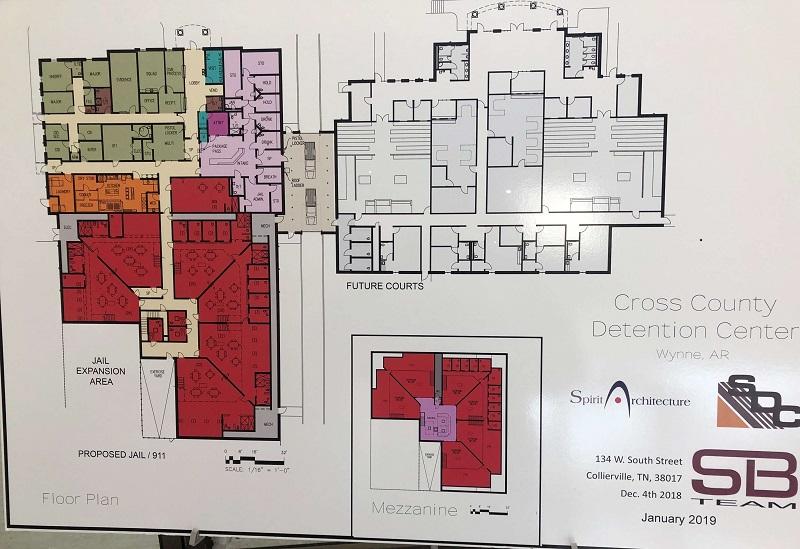 For answers to any questions regarding a new jail, please send an email to the county judge by clicking on this link and including JAIL in the subject line: Email County Judge
May 20, 2019
Quorum Court met and authorized funding for the land on which the jail will be built. Purchase should be completed within fourteen (14) days. The funds for the land will be paid from County General Funds, but will be repaid once the load proceeds are received in late July.
May 22, 2019
Meeting with South Build Construction Management Company.
At this meeting it was announced that the land survey has been completed and Spirit Architectural firm, the company that will actually design the jail, will prepare RFPs (Requests for Proposal) for three geo-technical firms and three civil engineering firms. Minor changes in the design were made at this meeting.

The timeline for the project is:
June 19 - Facilities Review Committee Meeting
Late July - Design-Development Review Meeting
Early November - Signed and sealed drawings will be finalized
Mid to late January - Construction bids will be received
Late February - Begin construction
Where will the jail be built? (Updated 02/21/19)
The Cross County Quorum Court held a special meeting on Wednesday, February 20, 2019, and voted to proceed with negotiations to purchase a 13.54 acre tract of land on Highway 1 south of Wynne. The tract lies between MFA Oil and the Farm Credit buildings. At this time, no land has been purchased.
What factors went into the decision to buy this particular parcel of land?

The County was looking for a tract in the 10-15 acre range. This parcel is 13.54 acres. There needed to be access to utility services, including water, sewer, electricity and gas. This parcel has all of those.
The parcel needed road access to a major thoroughfare and this parcel is fronted by Highway 1.
The facility needs to be close to the courthouse because of the transfer of prisoners to the courthouse for trials.
This location is not in a flood zone.
The price of the land is approximately $169,250 or $12,500 per acre which was about the same as for other suggested properties. The lowest cost parcel that was considered would have required extensive road work and additional utility work before any construction could begin.
What are some notable features of the planned jail?

The facility features a mezzanine or tower so that all inmates can be seen at all time and water or power can be shut down immediately. That is not possible in the current jail and this has led to some problems.