Information re Proposed Jail
Proposed Cross County Detention Center
To see the Power Point presentation about the proposed jail, click on Proposed Cross County Detention Center.


JAIL EXTERIOR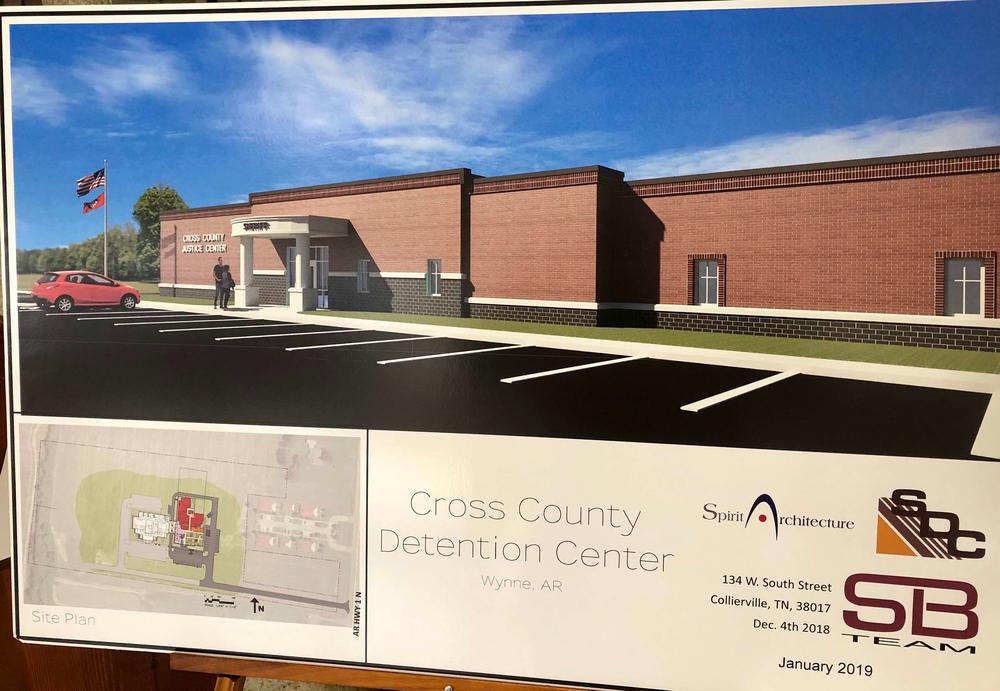 JAIL FLOOR PLAN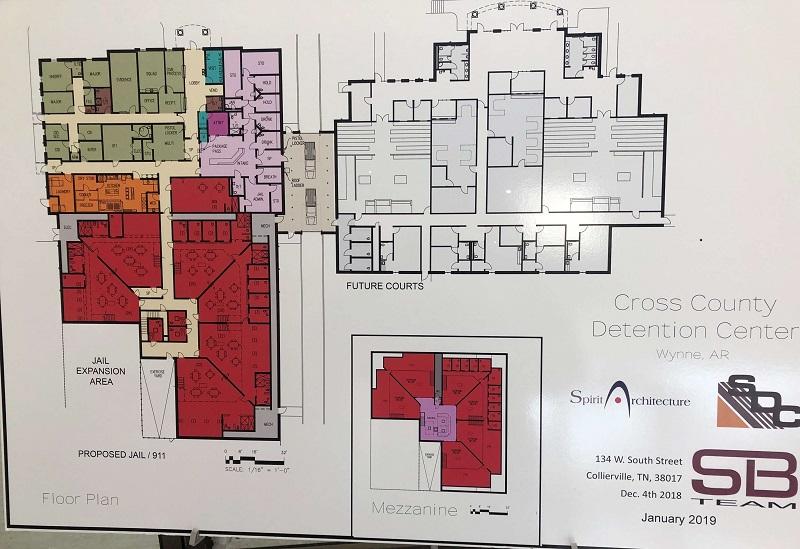 If you have any questions regarding a new jail, please send an email to the county judge by clicking on this link and including JAIL in the subject line: Email County Judge:Donnie Sanders.
Refer back to this site for updates to the FAQ.
Frequently Asked Questions (FAQ)
Why do we need a new jail?
The current jail was built in 1968 with an addition built in 1981. Over the past 38-50 years, many physical aspects of the jail have deteriorated to the point they are no longer serviceable. The State Jail Standards Commission has set a deadline of May 1, 2019, for the County to have a plan in place to address areas of the current jail that do not meet current state standards. These areas of deficiency include plumbing, electrical, security, return air, and allotted space for the inmates.
What other options were considered?
A committee was formed nearly a year ago to study issues with the jail. It was not a 'build a jail' committee. However, its recommendation to the Quorum Court was building a jail was the best option. South-Build Team LLC was hired to do a study on what that facility would look like. As a result of the study, the county had three options -- do nothing, renovate the current jail, or build a new jail.
Why is a 142-bed facility needed if we usually have fewer than 100 inmates?
The higher bed count is required in order to classify prisoners properly. Subgroups must be divided, including sex offenders, violent offenders, women, mental and sick, and sentenced and unsentenced.
What will happen if the sales tax does not pass?
The county would seek more time from the Jail Standards Commission, but reality would quickly set in if there is not a plan in place by May 1.
What are some notable features of the planned jail?
The facility features a mezzanine or tower so that all inmates can be seen at all time and water or power can be shut down immediately. That is not possible in the current jail and this has led to some problems..
Where would the jail be built?
The county is currently looking at two locations. One is 16.1 acres along Highway 1 across from the Wynne Sports Complex and the other is along Highway 1 south of Wynne. At this time, no land has been purchased and other sites may be considered.
Does the County currently house any federal prisoners?
No. The county has housed federal prisoners in the past, but does not at this time. The primary reason is that our current facility does not meet the federal jail standards.
Does the County currently house any state prisoners or from other counties?
There are some "309" prisoners in the county jail, but fewer than ten. We do house some from other counties, but currently fewer than five.