County Clerk
Melanie Davis Winkler, County Clerk
County and Probate Clerk
705 Union Ave E Ste 8
Wynne, Arkansas 72396
Phone:(870) 238-5735
FAX:(870) 238-5739
Email County Clerk Melanie Winkler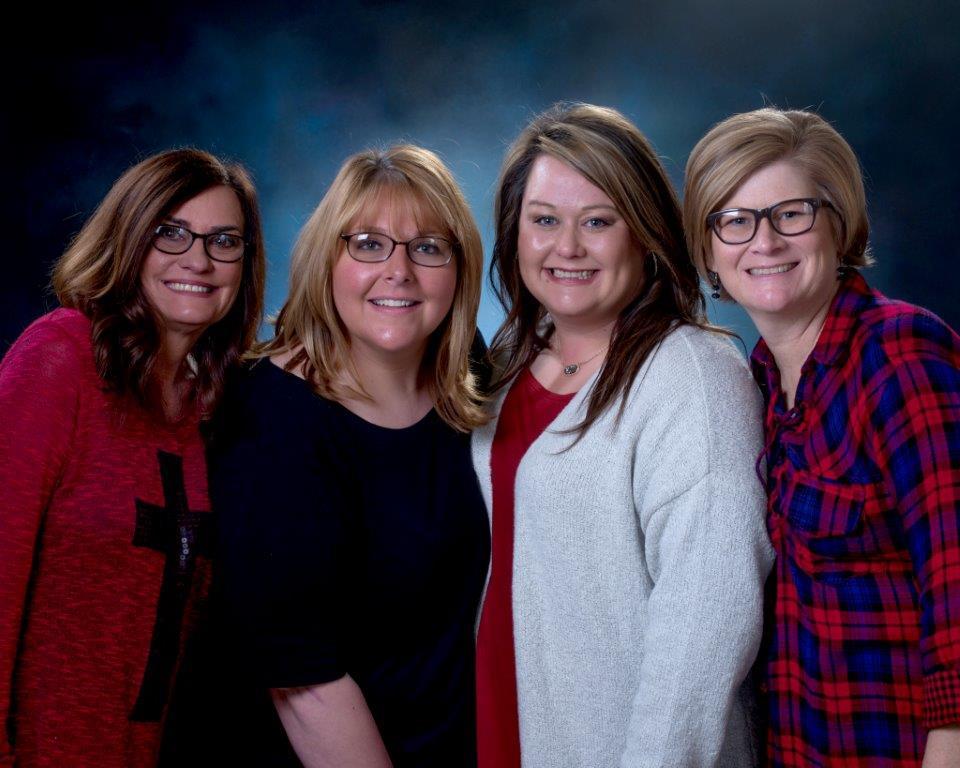 Pictured above are the clerks that will work diligently to help you each and every time you call or come into our office.
Pictured left to right: Tammy Crouch, Chief Deputy County Clerk; Melanie Winkler, County Clerk; Misty Wheeler, Deputy County Clerk; and Mary Beth Eakin, Deputy County Clerk.
The Cross County, County & Probate Clerk's Office is dedicated to providing courteous, ethical and friendly service to all the citizens of Cross County in a timely manner.
OFFICE HOURS:
Monday thru Friday 8:00 A.M.-4:00 P.M.
Office does not close during the noon hour.
Closed for all federal holidays
Notarizing documents is offered as a free service to the public during regular office hours.
FILING FEES:

Probate
$165.00
Case reopening
$50.00
Small Estate
$25.00
Claim against an Estate
$5.00
Certified Copies
$5.00
Assumed Name/DBA
$25.00
Recording of License, as Ministerial, Physician
$5.00
All fees except Probate fees must be paid in cash.
MARRIAGE LICENSES:
The cost of a marriage license is $60.00 (cash only). Both parties must be present and each must present a form of photo ID (ie: driver's license, passport).
If either party is under eighteen (18), please contact the County Clerk's office for further information.
A marriage license is valid for sixty (60) days from the date it is issued.
VOTER INFORMATION


VOTER REGISTRATION

To register to vote, one must complete a Voter Registration Application. An application can be picked up in the County Clerk's office in the courthouse or by downloading at this link, Voter Registration Application.


UPDATE VOTER INFORMATION

A resident of Cross County who needs to make an address or name change should contact the County Clerk's office (870-238-5735) so that we may assist with these updates.

APPLICATION for ABSENTEE BALLOT

To vote by Absentee Ballot, one must complete an Application for Absentee Ballot. This can be obtained from the County Clerk's office or by downloading at the following link, Absentee Ballot Application.

FIND VOTER REGISTRATION INFORMATION
Voter Registration Information
CROSS COUNTY ELECTION COMMISSIONERS:
SHARON LAWSON (R)-CHAIRMAN
KEVIN JUMPER (R)
BRADFORD CALDWELL (D)
POLLING SITES FOR ALL CROSS COUNTY ELECTIONS
EARLY VOTING
During election times, all Early Voting is held at the Cross County Courthouse.
ELECTION DAY SITES

Cross County now uses polling sites so that on Election Day any registered voter of the county may vote at any polling location in the county.

If a person is registered to vote in another county in Arkansas, the voter registration can be transferred up to four days before the election day.

The polling locations are listed below. Please feel free to call the County Clerk's office if you are unsure of your polling location.

CROSS COUNTY COURTHOUSE

705 E UNION AVE
WYNNE, AR 72396

WYNNE WARD #1
WYNNE WARD #2
WYNNE WARD #3
WYNNE WARD #4
WYNNE WARD #5
WYNNE TOWNSHIP
SMITH TOWNSHIP

VANNDALE FIRE DEPARTMENT

2893 HWY 1 B
VANNDALE, AR 72387

SEARCY TOWNSHIP

HOLT'S CHAPEL CHURCH OF GOD

520 HWY 193
WYNNE, AR 72396

BEDFORD TOWNSHIP
ELLIS TOWNSHIP
FAIR OAKS TOWNSHIP

HICKORY RIDGE CITY HALL

135 S FRONT ST
HICKORY RIDGE, AR 72347

HICKORY RIDGE CITY
HICKORY RIDGE TOWNSHIP
BRUSHY LAKE TOWNSHIP

CHERRY VALLEY FOOD PANTRY

3211 HWY 42
CHERRY VALLEY, AR 72324

CHERRY VALLEY CITY
MITCHELL TOWNSHIP
BIRDEYE/BAY VILLAGE TOWNSHIP

NORTHERN OHIO SCHOOL BUILDING
PARKIN ARCHAEOLOGICAL STATE PARK

123 HWY 184
PARKIN, AR 72373

PARKIN WARD #1
PARKIN WARD #2
PARKIN WARD #3
TYRONZA/TWIST TOWNSHIP

ACCOUNTS PAYABLE:
The County Clerk's office pays all county invoices.
HUMAN RESOURCES/PAYROLL:
All personnel records and insurance are processed and maintained through the County Clerk's office. The County Clerk is also responsible for all County payroll along with issuing W-2 and 1099 forms at the end of each year.
CROSS COUNTY ELECTED OFFICIALS:
| | |
| --- | --- |
| County Judge | Donnie Sanders |
| County Clerk | Melanie Davis Winkler |
| Circuit Clerk | Rhonda Sullivan |
| County Treasurer | Karen McCorkle |
| County Sheriff | David West |
| County Collector | Debbie Baker Davis |
| County Assessor | Sherri Williams |

QUORUM COURT:
Meetings are usually held on the third Monday of each month unless it falls on a holiday or for other valid reason, in which case, the meeting will be rescheduled and publicly announced.

JUSTICES OF THE PEACE:
JP District #1

Douglas Kennon

JP District #

2
Kent Goff

JP District #

3
Lynn Blake

JP District #

4
Glenda Vance

JP District #

5
Gloria Aldridge

JP District #

6
Gary Eakin

JP District #

7
Carl Loewer

JP District #

8
Jerry Brewster

JP District #

9
Scott May
CROSS COUNTY CONSTABLES:
| | |
| --- | --- |
| Township District #1 | Rome Helton |
| Township District #2 | Logan Morris |
| Township District #3 | Lynn South |
CROSS COUNTY STATE SENATOR:
| | |
| --- | --- |
| Senate District 23 | Senator Ronald Caldwell |
| Senate District 24 | Senator Keith Ingram |
CROSS COUNTY STATE REPRESENTATIVE:
| | |
| --- | --- |
| House District 49 | Representative Steve Hollowell |
| House District 50 | Representative Milton Nicks, Jr. |
SCHOOL BOARD MEMBERS:
WYNNE SCHOOL DISTRICT #9:
School Zone #1
Jackie Clark
School Zone #2
Spencer Parker
School Zone #3
Stacie Schlenker
School Zone #4
Neall Jackson
School Zone #5
Shannon Hobbs
CROSS COUNTY SCHOOL DISTRICT #7:
School Zone #1
Dennis Stevenson
School Zone #2
Richard Imboden
School Zone #3
Dewayne Cameron
School Zone #4
Shane Bell
School Zone #5
Steve Stricklin
School Zone #6
Joan Ball
School Zone #7
Craig T. Walker